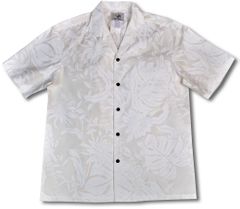 100% Cotton




Makapuu - White Men's Two Palms Shirt is Available in White, Black and Purple.




Makapu'u is the extreme eastern end of the Island of Oahu in the Hawaiian Islands, comprising the remnant of a ridge that rises 647 feet above the sea. The cliff at Makapu'u Point forms the eastern tip and is the site of a prominent lighthouse.

Makapu'u Point Lighthouse is a 46-foot-tall (14 m), active United States Coast Guard lighthouse established in 1909. Construction for the lighthouse was prompted by the grounding of the steamer Manchuria in the predawn hours on August 20, 1906 on the reefs off Waimanalo. The lighthouse was automated in 1974 and its keeper's quarters demolished in 1987, but the remnants are still visible. The lighthouse contains a roughly 12-foot-tall (3.7 m) French Fresnel hyper-radial lens, the largest lens in use in the United States. The lens is able to magnify and intensify the illumination of a single electrical 1,000-watt, 120-volt light bulb. It was damaged by a vandal firing a bullet at it, but the lens is still in service as it is no longer reproducible. A popular day hike along the access road to the lighthouse begins at a parking lot located south of the Makapuʻu lookout on Kalanianaole Highway. A second trail leads from the remnants of the keeper's quarters to the lighthouse, but it is off limits to the public. The lighthouse itself is also off limits to the public and is protected by three locked gates.





about Inventory & Stocking Information



ALERT: There could be a minimum 20 to 24 business day wait for the Honolulu sewing department to create the 2X, 3X & 4X sizes for you as long as fabric remains available. We do not always keep hanging stock of these sizes of Two Palms prints in our Maui Showroom. Please do not place 2X, 3X & 4X sizes into your shopping cart if you are unable to wait.





41 - 42

44 - 45

47 - 48

51 - 52

54 - 55

56 - 57

61 - 62

17 - 18

19

20 - 21

22 - 23

23.5 - 24

24 - 25

24.5 - 26.5

27

31

32

33

33

34

35

Men's Two Palms rayon shirts have Coconut Shell Buttons.

Note: The measurements within this size chart were obtained from actual Two Palms shirts and NOT from a body. The Chest measurement of a shirt is realized from a measurement taken from approximately 1/4" under the armpits from side seam to side seam. Measure the back or the front of a shirt in your wardrobe, from under the armpits, and then DOUBLE this measurement to obtain the chest size of the shirt. Compare this measurement from a shirt in your wardrobe to the size chart above to purchase the correct size. Purchase the nextt size up if in between sizes.

The Length measurements are taken from the back of the shirt from the middle top of the collar down to the bottom of the shirt hem.
Shoulder measurement is determined from the inseam of one shoulder across to the other shoulder's seam.

CARE & CLEANING: Dry clean or machine wash with a mild detergent in COLD WATER, use a delicate cycle, DO NOT use bleach. Tumble dry in cool temperature and touch up, if necessary with a cool iron. Detailed instructions can be found at the bottom area of all pages of the web site: "How to care for your Made in Hawaii Aloha Clothing."



Got a question? Email Mickey Steinborn, President, MauiShirts.com, Inc.
Mauiman@MauiShirts.com

The images depicted on all pages of any Hawaiian shirt or Hawaiian dress is a random selection of the print. There are no two prints that are identical; every man's shirt print, boy's shirt print, girl's or women's dress print will be unique.

MauiShirts.com, Inc., Michael (Mickey) B. Steinborn reserves the right to do, or not to do, business with you.
If you attempt fraud, are abusive or rude in your communications your email address, name will be removed from our monthly email special sales. MauiShirts.com, Inc. will not tolerate rude and disrespectful people. We do business with a spirit of Aloha. We practice Aloha. We will not accept new orders from any customer if untrue, unfounded, negative remarks, feedback is posted in the Yahoo public forum. The Yahoo public forum is something we enable for you. It is there for us to improve our service to you and others. It is not there for you to make unwarranted remarks or comments.

Copyright © 2023 MauiShirts.com Inc., Michael (Mickey) B. Steinborn - Copyright © 1998 - 2023 MauiShirts.com - Copyright infringement is a civil and criminal offense. Willful violation can result in penalties up to $ 100,000.00 per infringement. No portion of this web site, MauiShirts.com Inc.; images, photographs, text, may be reproduced by printing, photocopying or by any other means of mechanical or electronic reproduction without the express written permission from MauiShirts.com, Inc.