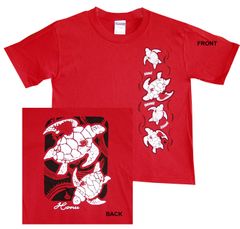 Screen Printed in Honolulu


Premium Pre-Shrunk 100% Quality Cotton

(Vertical) "Honu" Turtle Boy's & Girl's Cotton T-Shirt is Available in Red, Chocolate, White and Black. Best Quality Screen printed with 4 verticle turtle images on the front with Maui, Kauai and Hawaii. The back is screen printed with a large, centered turtles image and the word "Honu". Honu is the Hawaiian word for turtle.




Designed by Big Island (Hawaii) Artists
Please Click on the Images for larger views

about Inventory & Stocking Information



Sea turtles are ancient reptiles. They have swum the oceans for hundreds of millions of years. Most turtle species are either endangered or on the verge of extinction.

The turtle is a symbol of wisdom in Chinese mythology.

Hawaiian legend recalls a green sea turtle named Kauila. This turtle, Kauila, could transfigure into a girl. Legend recalls she watched over the children who played on Punalu'u Beach. Punalu'u Beach is a black sand beach on the Big Island; Hawaii between the communities of Pahala and Na'alehu. The story relates that when Kauila's mother dug a nest it created a fresh water spring. The water rose from the spring and quenched the keiki (children's) thirst. In Hawaiian lore, Kauila, is the mythical mother of all turtles.

It is suspected that ancient sailors used turtles as guides to lead them during their first voyages to Hawaii.

The green turtle, (chelonian mydas), lives close to Hawaiian shores. The green turtle is called the "honu". Many ancient Hawaiian petroglyphs depict the turtle.

Hawaiian monarchy, chiefs and kings, enjoyed turtle flesh as food. Turtle soup is popular worldwide.

Hawaiian green sea turtles can grow to nearly four feet and weigh hundreds of pounds by the time they reach 25 years of maturity. The grayish brown shell of the green turtle is heart-shaped. The body is green.





Got a question? Email Mickey Steinborn, President, MauiShirts.com, Inc.
Mauiman@MauiShirts.com

The images depicted on all pages of any Hawaiian shirt or Hawaiian dress is a random selection of the print. There are no two prints that are identical; every man's shirt print, boy's shirt print, girl's or women's dress print will be unique.

MauiShirts.com, Inc., Michael (Mickey) B. Steinborn reserves the right to do, or not to do, business with you.
If you attempt fraud, are abusive or rude in your communications your email address, name will be removed from our monthly email special sales. MauiShirts.com, Inc. will not tolerate rude and disrespectful people. We do business with a spirit of Aloha. We practice Aloha. We will not accept new orders from any customer if untrue, unfounded, negative remarks, feedback is posted in the Yahoo public forum. The Yahoo public forum is something we enable for you. It is there for us to improve our service to you and others. It is not there for you to make unwarranted remarks or comments.

Copyright © 2023 MauiShirts.com Inc., Michael (Mickey) B. Steinborn - Copyright © 1998 - 2023 MauiShirts.com - Copyright infringement is a civil and criminal offense. Willful violation can result in penalties up to $ 100,000.00 per infringement. No portion of this web site, MauiShirts.com Inc.; images, photographs, text, may be reproduced by printing, photocopying or by any other means of mechanical or electronic reproduction without the express written permission from MauiShirts.com, Inc.