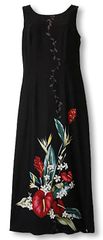 100% Herringbone Rayon



Anthurium Bouquet Panel Women's Hawaiian Aloha, Two Palms Label, Long Tank Dress with Piping Trim, Fitted Bodice, Back Zipper, Side Slits, displaying Torch Red Ginger, White Plumeria and Bird of Paradise flowers is Available in Black and White.

Please Click on the Images for larger views




about inventory and stocking information

Two Palms - Sleeveless Long Tank Sheath Dress - Piping Trim, Fitted Bodice, Scoop Neckline, Zipper Back, Side Slits / Style MS-701-1H
100% Herringbone RAYON - Made in Hawaii Clothing - Size Chart

X-SMALL (Special Order)

32

30

35

49

SMALL

34

30

37

50

MEDIUM

36

32

39

51

LARGE

38

36

41

52

X-LARGE (XL)

40

38

43

53

XX-LARGE (2X) (Special Order)

42

42

45

54

XXX-LARGE (3X) (Special Order)

44

42

47

55

There are no universal size standards in the apparel business. One manufacturers large is another manufacturers medium, etc. These measurements, shown in inches, on this size chart, pertain to the Two Palms, Sleeveless Long Tank Dress and have no relationship to any other dress maker or brand name.
For best results we recommend that you find a dress in your wardrobe and measure this dress and compare to the measurements above.

To avoid returns or exchanges, please call the Toll Free Number, 10 A.M. to 3 P.M., local Maui Time, if you need further assistance with your size:
(1-866-628-4626). CLICK to see Local Maui Time: Maui Time.

BUST or CHEST measurement is the circumference measurement taken from just below the armpits from seam to seam. The measurement is taken with the dress flat on a table. Measure around the fullest part of your bust to determine your bust measurement. Compare to the dress measurement above.

WAIST: To determine the waist area bend to one side to locate the natural crease of your waist. Measure across this area.

HIP: To determine your hip measurement -stand with your feet together, measure around the fullest part of your hips and rear. Compare to the dress measurements above. Leave room for comfort.


LENGTH is measured from top of the shoulder to the bottom of the hem.



Got a question? Email Mickey Steinborn, President, MauiShirts.com, Inc.
Mauiman@MauiShirts.com

The images depicted on all pages of any Hawaiian shirt or Hawaiian dress is a random selection of the print. There are no two prints that are identical; every man's shirt print, boy's shirt print, girl's or women's dress print will be unique.

MauiShirts.com, Inc., Michael (Mickey) B. Steinborn reserves the right to do, or not to do, business with you.
If you attempt fraud, are abusive or rude in your communications your email address, name will be removed from our monthly email special sales. MauiShirts.com, Inc. will not tolerate rude and disrespectful people. We do business with a spirit of Aloha. We practice Aloha. We will not accept new orders from any customer if untrue, unfounded, negative remarks, feedback is posted in the Yahoo public forum. The Yahoo public forum is something we enable for you. It is there for us to improve our service to you and others. It is not there for you to make unwarranted remarks or comments.

Copyright © 2023 MauiShirts.com Inc., Michael (Mickey) B. Steinborn - Copyright © 1998 - 2023 MauiShirts.com - Copyright infringement is a civil and criminal offense. Willful violation can result in penalties up to $ 100,000.00 per infringement. No portion of this web site, MauiShirts.com Inc.; images, photographs, text, may be reproduced by printing, photocopying or by any other means of mechanical or electronic reproduction without the express written permission from MauiShirts.com, Inc.